Indonesian Journal of Performing Arts Education (IJOPAED) is an academic journal that publishes results of research, literal study, performing art review and critical study in Indonesia. The focus of the journal is innovative works on art interpretation, learning design, developed technology, implemented classroom methods, and evaluation of cultural and performing art education. The journal is published periodically. A year is published twice.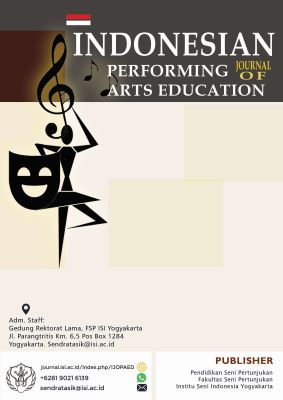 IJOPAED menyambut naskah-naskah yang belum diterbitkan guna memajukan publikasi dan pemahaman terkait Pendidikan Seni Pertunjukan baik dalam area pendidikan dasar, menengah, kejuruan, maupun pendidikan tinggi, serta pendidikan yang sifatnya non-formal (sanggar dan studio seni). Untuk memulai silahkan download template di atas.


Announcements
No announcements have been published.