A B C D E F G H I J K L M N O P Q R S T U V W X Y Z All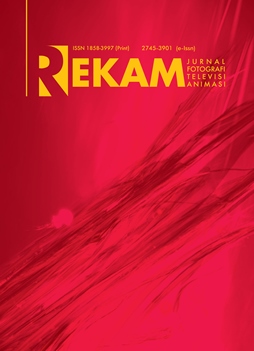 REKAM: Jurnal Fotografi, Televisi, dan Animasi
TERAKREDITASI RISTEKDIKTI berdasarkan Surat Keputusan Direktur Jenderal Penguatan Riset dan Pengembangan Kementerian Riset, Teknologi, dan Pendidikan Tinggi Republik Indonesia Nomor 36a/E/KPT/2016 tanggal 23 Mei 2016. Akreditasi berlaku hingga 2021.

REKAM adalah jurnal ilmiah yang diterbitkan oleh Fakultas Seni Media Rekam, Institut Seni Indonesia Yogyakarta. Jurnal ini berisikan tentang artikel hasil penelitan, gagasan konseptual (hasil  pemikiran), penciptaan, dan hasil pengabdian masyarakat dalam bidang fotografi, televisi, dan animasi.
View Journal | Current Issue | Register
Resital: Jurnal Seni Pertunjukan
Resital is a peer-reviewed journal published in April, August, and December. The journal contents are managed by Faculty of Performing Arts, Institut Seni Indonesia Yogyakarta. Resital provides rooms for academicians, professionals, researchers, and expertise to deliver and share knowledge based on the research results and art creation of traditional music, contemporary music, music education, music studies, music performance, film music, and other similar fields of discussions.
View Journal | Current Issue | Register
1 - 2 of 2 Items