PROMUSIKA: Jurnal Pengkajian, Penyajian, dan Penciptaan Musik [P-ISSN: 2338-039X | E-ISSN: 2477-538X] has been published by Department of Music, Faculty of Performing Arts, Institut Seni Indonesia Yogyakarta, since 2013. The Journal accommodates original articles in the field of music which is based on results of thoughts and research as well as reports on performance and composition. The purpose of this publication is to support scientific autonomy achievement of music fields in Indonesian national higher education.
________________________________
This journal has been indexed by: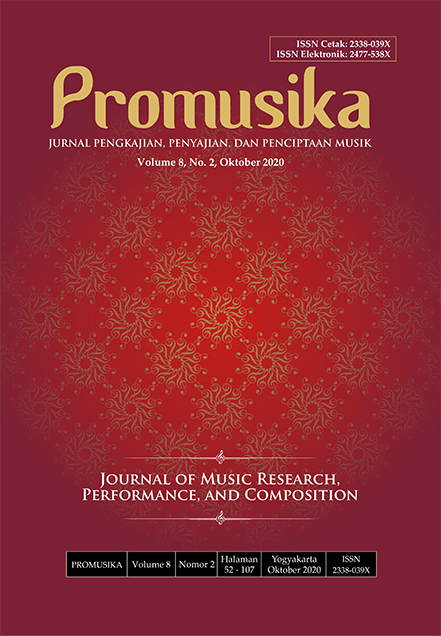 Announcements
CALL FOR PAPERS

Promusika menerima artikel baru untuk Volume 9 No. 1 (April 2021) dan Volume 9 No. 2 (Okrober 2021).

Syarat menulis Jurnal Promusika:

Penulis harus mendaftar anggota penulis (Author subscribe) klik di sini.

Penulis menggunakan sistem pustaka APA

Penulisan Referensi menggunakan software Mendeley

Posted: 2020-11-27
More...
Vol 8, No 2 (2020): Oktober 2020
Table of Contents
Articles
| | | |
| --- | --- | --- |
| | Oriana Tio Parahita Nainggolan, Ovan Bagus Jatmika | 90-100 |
| | | |
| --- | --- | --- |
| | Tri Wahyu Widodo, Yosinda Salsa Bela Pangestuti | 101-108 |
| | | |
| --- | --- | --- |
| | Daniel de Fretes, Nensi Listiowati | 109-122 |
| | | |
| --- | --- | --- |
| | Pipin Garibaldi, Andre Indrawan | 123-134 |