Jurnal DeKaVe diterbitkan oleh Program Studi Desain Komunikasi Visual Fakultas Seni Rupa, Institut Seni Indonesia Yogyakarta bekerjasama dengan AIDIA (Asosiasi Profesional Desain Komunikasi Visual Indonesia) sebagai media publikasi ilmiah bagi karya penelitian maupun perancangan, yang mencakup: desain komunikasi visual, bahasa rupa, budaya visual, desain grafis, multimedia, dan periklanan.
Berdasarkan kutipan Direktur Jenderal Penguatan Riset dan Pengembangan, Kementerian Riset, Teknologi, dan Pendidikan Tinggi Republik Indonesia Nomor: 30/E/KPT/2019 tanggal 11 November 2019 tentang Hasil Akreditasi Jurnal Ilmiah Periode 6 Tahun 2019, ditetapkan sebagai Jurnal Terakreditasi Sinta 4.
P-ISSN: 2087-9709
E-ISSN: 2685-6093
Jurnal DeKaVe is published by the Visual Communication Study Program of Visual Arts Faculty of Institut Seni Indonesia Yogyakarta in collaboration with AIDIA (Indonesian Visual Communication Design Professional Association) as a scientific publication medium for research and design works, which includes: visual communication design, visual language, visual culture , graphic design, multimedia, and advertising.
Based on the quote from the Director General for Strengthening Research and Development, Ministry of Research, Technology and Higher Education of the Republic of Indonesia Number: 30/E/KPT/2019 dated 11 November 2019 concerning Results of Accreditation of Scientific Journals Period 6 of 2019, it was designated as Sinta 4 Accredited Journal.
P-ISSN: 2087-9709
E-ISSN: 2685-6093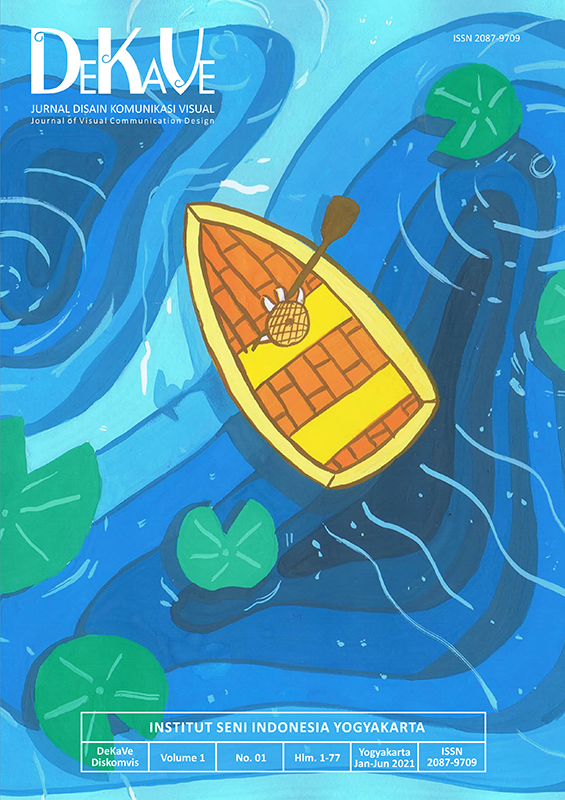 Announcements
No announcements have been published.
Vol 15, No 2 (2022): DeKaVe Vol. 15 No. 2 2022
Table of Contents
Articles
| | | |
| --- | --- | --- |
| | Mochamad Faizal Rochman | 112-125 |
| | | |
| --- | --- | --- |
| | AHMAD SAHAR SYAMSUDIN | 126-136 |
| | | |
| --- | --- | --- |
| | Martinus Eko Prasetyo | 149-164 |