TONIL: Jurnal Kajian Sastra, Teater dan Sinema adalah jurnal ilmiah di bidang pengkajian dan penciptaan teater dan seni pertunjukan yang diterbitkan oleh Jurusan Teater Fakultas Seni Pertunjukan Institut Seni Indonesia Yogyakarta (ISI Yogyakarta). Penerbitan TONIL utamanya adalah untuk menjadi ruang komunikasi, diskusi, advokasi dan pemutakhiran wacana, gagasan dan kritisisme para seniman ilmuwan, praktisi, dan semua pemangku kepentingan di bidang teater dan seni pertunjukan. TONIL juga bertujuan untuk saling membuka wawasan di bidang teater dan seni pertunjukan secara luas yang berkembang di Indonesia maupun di manca negara sehingga dapat membawa inspirasi dan pencerahan bagi studi teater dan seni pertunjukan.
______________________
Tonil: Journal of Literature, Theatre, and Cinema Studies is a scientific journal in the fields of Theatre/Arts creations & studies under the publication banner of Theatre Department, Faculty of Performing Arts in Indonesia Institute of the Arts Yogyakarta (ISI Yogyakarta). TONIL publication emphasizes its role as a medium for communication, discussion, advocation and the literary refinement. TONIL serves as a vessel to accomodate the ideas and criticism from the artists, scientist, practitioners, and also all positions involved in the field of Theatre and Performing Arts. Tonil aims to generate and connect the network of discussions in Theatre and Performing Arts that are vastly growing in Indonesia as well as the global world, in hope of bringing inspirations and insights for Theatre and Performing Arts studies.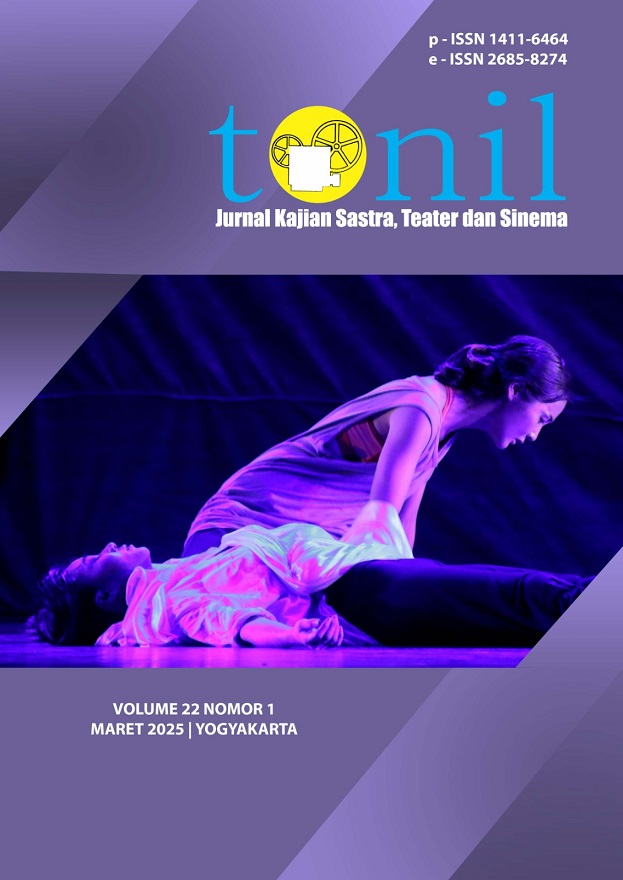 Vol 17, No 1 (2020): Vol 17, No 1 (2020)