ISSN 2460-5662 (print) || 2502-499X (online)
Journal of Animation and Games Studies (JAGS) merupakan jurnal interdisipliner mengenai perkembangan riset, rekayasa cipta, studi pustaka maupun kajian di bidang animasi dan game yang termasuk dalam ranah seni terapan media rekam. Jurnal ini diterbitkan oleh Program Studi Animasi Fakultas Seni Media Rekam Institut Seni Indonesia (ISI) Yogyakarta dengan frekuensi penerbitan 6 bulan sekali.
Berdasarkan SK Dirjen Penguatan Riset dan Pengembangan Kemristekdikti RI Nomor 28/E/KPT/2019 tanggal 26 September 2019, Journal of Animation and Games Studies dinyatakan terakreditasi peringkat 4 (SINTA 4).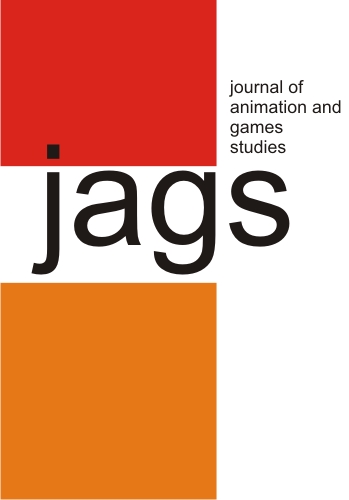 Panduan lengkap penulisan artikel pada
Journal of Animation and Games Studies
dapat diunduh pada menu
Guideline For Author
atau dapat diunduh
disini
.
Announcements
Call for papers: Call for Papers untuk Terbitan Volume 6 Nomor 2 Tahun 2020

Kami mengundang para peneliti, akademisi, dan siapa saja yang memiliki artikel ilmiah yang berkaitan dengan animasi dan game untuk mempublikasikannya di Journal of Animation and Game Studies. Tersedia 5 slot artikel yang akan dipublikasikan untuk terbitan ini.

Posted: 2020-07-30
More...
Vol 6, No 1 (2020): April 2020