---
ACCREDITATION OF RISTEKDIKTI based on Decree of Direktur Jenderal Pendidikan Tinggi, Riset, dan Teknologi, Kementerian Pendidikan, Kebudayaan, Riset, dan Teknologi Republik Indonesia Number: 0385/E5.3/KI.02.00/2022 dated June 6, 2022. Accreditation is valid until 2025
Excerpt from DDirektur Jenderal Pendidikan Tinggi, Riset, dan Teknologi, Kementerian Pendidikan, Kebudayaan, Riset, dan Teknologi Republik Indonesia Number: 0385/E5.3/KI.02.00/2022 dated June 6, 2022 concerning the Accreditation Results of Scientific Journal for Period 1 of 2022, set as the 3rd Accredited Journal Valid until Volume 21 Number 1 of 2025.
Rekam: Jurnal Fotografi, Televisi, Animasi is a scientific journal published by the Asosiasi Dosen Seni Media Rekam Indonesia in collaboration with the Fakultas Seni Media Rekam, Institut Seni Indonesia Yogyakarta. This journal contains articles on research results, conceptual ideas (results of thought), creation, and the results of community service in the fields of photography, television, and animation.
Indexing & Abstracting
Kuota penerbitan 2023 sudah ditutup. REKAM open submission kembali pada Januari 2024.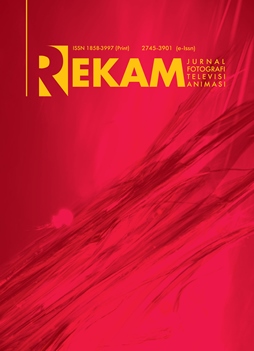 Vol 19, No 1 (2023): REKAM: Jurnal Fotografi, Televisi, Animasi
Table of Contents
Articles
| | | |
| --- | --- | --- |
| | Irwandi Irwandi, Agni Saraswati, Anjania Nanda Pithaloka | 1-10 |
| | | |
| --- | --- | --- |
| | Prince Alvin Yusuf, Sandi Prasetyaningsih, Fandy Neta | 11-24 |
| | | |
| --- | --- | --- |
| | FX. Damar Jati, Silviana Amanda Aurelia Tahalea | 25-36 |
| | | |
| --- | --- | --- |
| | Kusuma Dewangga, Kathryn Widhiyanti, Putri Nastiti, Yustus Eko Oktian | 37-46 |
| | | |
| --- | --- | --- |
| | Erlina Novianti, Silviana Amanda Tahalea, Asih Retno Dewanti | 47-58 |
| | | |
| --- | --- | --- |
| | Agung Priyo Wicaksono | 59-70 |
| | | |
| --- | --- | --- |
| | Lilik Kustanto, Agustinus Dwi Nugroho, Jj Al-Desafinadha | 71-82 |
| | | |
| --- | --- | --- |
| | Rifka Nadila Damayanti, Sigit Surahman, Annisarizki Annisarizki | 83-92 |