| | |
| --- | --- |
| Journal title | EKSPRESI: Indonesian Art Journal |
| Initials | Ekspresi |
| Abbreviation | Eksp |
| Frequency |  2 issues per year |
| DOI | prefix 10.24821/ekp. |
| Online ISSN |  2964-5921 |
| Editor in Chief | Kurnia Rahmad Dhani, M.A |
| Managing Editor | Puput Meinis Narselina, M.Sn |
| Publisher | Institut Seni Indonesia Yogyakarta |
| Citation Analysis | Google Scholar | Garuda |
---
EKSPRESI is a double-blind peer-reviewed international journal published twice a year in April and October. Ekspresi published by Institut Seni Indonesia Yogyakarta. 
This journal contains articles on research results, conceptual ideas, art creation, and community service activities in the fields of arts and humanities.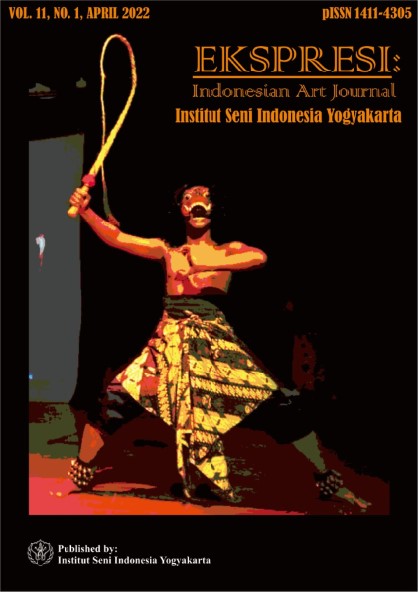 Announcements
No announcements have been published.
Vol 11, No 2 (2022)
Table of Contents
Articles
| | | |
| --- | --- | --- |
| | Ido Brilliant Taufikurrahman, Royke B Koapaha, Paramitha Dyah Fitriasari | |
| | | |
| --- | --- | --- |
| | Athaya Hanan, Bunga Arrum Nurinta, Timothy Sidik Kurniawan | |
| | | |
| --- | --- | --- |
| | Krisna Tama, Kurnia Rahmad Dhani | |
| | | |
| --- | --- | --- |
| | Aqilah Mumtaza, Kania Azzahra Dharmawan, Luqman Satria Mursit Wicaksono | |